Chaotic versatility: A tactical analysis of Son Heung-min and his Tottenham season
Son Heung-min is widely regarded as the most underrated player in the Premier League. With 21 goals and nine assists for club and country this season, it's not difficult to understand why. Standing at 6 feet tall, the South Korean possesses electric pace, an incredibly direct dribbling style, and the ability to finish with either foot to an equal level of precision.
The Tottenham man is incredibly versatile. Whilst primarily a left-winger who can either cut inside to shoot or run the line, he can play behind the striker as a shadow-striker, as a poacher up top, or in a similar style on the opposite flank. This allows him to be tactically versatile – such a rare and important characteristic – allowing him to be the main pawn to his manager's game plan, with his versatility opening more options if the change is required.
In this individual tactical analysis, we'll discover what makes Son so unique, why he's scoring so many goals, and winning his side games without their star man Harry Kane.
A direct dribbler
There are three main types of dribbling styles. Technical dribblers who are your Lionel Messi-type players, press-resistant players such as the ex-Spurs behemoth Moussa Dembélé and finally, your direct dribblers. Son Heung-min is a perfect example of the latter.
This style is exactly as described. The player wastes no time in holding onto the ball or performing unnecessary skill moves. Instead, they will look to burst forwards goal to cause a goal threat and create havoc by accelerating up the pitch at a high speed, something that Cristiano Ronaldo excels at.
The image above underlines Son's incredible football IQ. Everyone knows that Manchester City's full-backs love to come narrow to overload the central areas. Son also knows that if he can attract the three players nearby towards him, he'll have miles of space to burst into – and Son does possess incredible sprint speed. He quickly feints towards İlkay Gündoğan to draw the German in before quickly moving the ball towards Zinchenko to force the young full-back to a narrow area.
After this intelligent manipulation of space, Son now has miles of space to run into. We should also note that four players are being sucked towards the ball, allowing John Stones to be left one-on-one with Lucas Moura. Whilst Stones is a good defender, the agility and sheer speed of Moura is enough to make it a mismatch.
The two images paint a picture of what a direct dribbler is. They waste no time in advancing towards goal, as well as creating space for other attacking players on their team.
A key result of a player possessing a direct dribbling style is that they have an incredible ability to transition their side into goalscoring areas. Above we can see how Son picks the ball up from Eriksen not much deeper than the centre circle in Palace's half and has quickly turned possession play into a serious attack.
With Son's two-footedness he was able to throw two markers off balance to make a run into an area which takes not only incredible dribbling ability but confidence and bravery also. Unfortunately, his cross was cleared for a corner, but the intent of this move was superb, and so too nearly was the execution.
With such intelligence and ability its no wonder why Son completes just under seven dribbles per game with a 70% success rate.
Perfect running form
Maximum velocity sprinting is the stage your body reaches once it has peaked in a sprint, after the acceleration period. Digital Track and Field list three main components to a proper and successful sprinting form as:
Neutral pelvic alignment (run tall)
High heel recovery (bring the foot as high as the opposite knee)
Quick arm action (fast and coordinated with lower the body)
From this list, Son Heung-min ticks all three. His speed is greatly assisted by his good height too.
In the 92nd minute, with Huddersfield tiring, we see Son burst into life. With fluidity in attacking movement strong with Pochettino's men, Son was gifted 25 yards of space to accelerate into by the tired Yorkshire outfit. He then lay a perfectly weighted pass into the feet of speedster Lucas, who then put the ball in the top far corner of the net.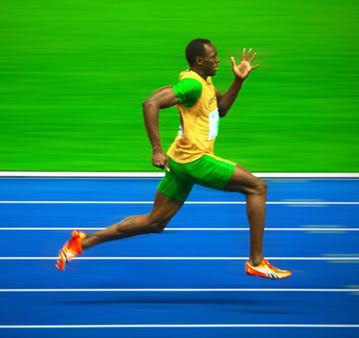 Let's go back to the idea of Maximum Velocity and Son's form. This picture of Usain Bolt pictures this biomechanical theory perfectly. When his right limb lifts, his left arm raises, creating power. This is all while his left leg is producing force. Now if we look at Son in this sprinting phase in a game for his country, we can see that his form is perfect.
Son is doing exactly was Bolt is doing. We see players like Cristiano Ronaldo and Raheem Sterling with their biomechanically questionable sprinting techniques which in fact actually slow them down, but Son does the opposite. His left leg is driving into the ground to create force, whilst his right leg lifts at a 90-degree angle with his left arm supplying him with balance and power. Now, this might seem ridiculously simple, but so many top players possess poor sprinting form, slowing them down and taking away their sprinting potential.
Clinical two-footedness
Son is naturally right-footed. But it's obvious he received thousands of hours with high-quality coaches perfecting his left foot, allowing him to be just as dangerous with his supposedly weaker foot. Son has scored 12 goals with his right foot this season, and 10 with his left: that's a remarkable tally.
After Eriksen wins the ball back, he quickly finds Son who is out wide on the right wing. Most right-footed players playing on the right-wing are predictable, but Son isn't. In fact, he is highly unpredictable; his versatility is chaotic.
With his direct dribbling, speed and clinical finishing, he produces a fine goal. Shaping his body to give the impression he is going to the goalkeeper's right, he coolly, smartly and clinically finishes with power to the keeper's left. But he is just as capable on his right, as many right-footed players are.
With a press led again by Eriksen, the Dane and Jan Vertonghen press and win the ball high up the pitch. Once Vertonghen wins the ball, Son sprints into the box with ferocious pace. After a delightful cross from the marauding Vertonghen, Son shows the composure and brilliance to softly cushion the ball whilst using the weight of the cross to guide his team ahead with a beautiful top corner finish.
This was another example of the Spurs talisman showing up on big occasions, this time a Champions League round of 16 clash against the then in-form Borussia Dortmund. Son's finishing is truly incredible and is perfectly complemented by his speed and direct dribbling ability.
Conclusion
Son Heung-min's ability to produce the unexpected is what makes him such an incredibly rare player. With the ability to score so fluently with either foot in the biggest games, he certainly possesses incredible drive and composure. With a direct style of dribbling allowing his side to rapidly transition from defence into attack, accompanied by the ability to finish those moves clinically with either foot, Son is a tactically incredible player.
His dribbling, ambidexterity, finishing and speed make him perfect from a counter-attacking perspective for a total possession style. He ought to be considered a world-class player capable of playing almost anywhere, as shown in the FA Cup semi-final when he played as a left-wing back.
The South Korean made history with his nation by winning the Asian Games. He will no longer be forced to complete mandatory military duty, which will be a definite weight lifted off his shoulders. Perhaps this removal of anxiety has added some fuel to Son's game, or perhaps he has just hit his peak, who knows. Either way, the Korean is nothing short of world-class and deserves the recognition he has been receiving lately after smashing in two goals away to Manchester City in the Champions League semi-final.
---
If you love tactical analysis, then you'll love the digital magazines from totalfootballanalysis.com – a guaranteed 100+ pages of pure tactical analysis covering topics from the Premier League, Serie A, La Liga, Bundesliga and many, many more. Buy your copy of the April issue for just ₤4.99 here, or even better sign up for a ₤50 annual membership (12 monthly issues plus the annual review) right here.